Are you a non-native English speaker who'd like to improve your English writing skills?
As a non-native English speaker, writing in English is the thing I'm most insecure about when I work on my blog. While I know I have great stuff to share, sharing my thoughts with the world in English is quite challenging for me.
Why I started a blog in Englishas a non-native speaker
I also blog in my native language, Dutch. But, my English posts attract way more visitors! Why? For the simple reason, more people on this planet can read them. 😊 The Netherlands is just a small country. So, If I'd be only blogging in Dutch, I'd miss out on many opportunities and visitors. That's why I decided to blog in English and that's why I created a multilingual website.
Being fluent in English is not the same as being able to write an entire blog post from scratch in English. When I started to blog in English, it felt like I needed to learn the language again from the start. The grammar didn't make sense anymore, I began to doubt how to spell words, and my vocabulary wasn't sufficient enough to be able to write full blog posts without the use of a dictionary… Aarrgh!
I never had this problem with speaking or reading in English. This is why I needed to find ways to improve my English writing skills fast. I wanted to become a part of the worldwide blogging community, too!
Disclaimer: This blog post contains affiliate links. I may earn a small commission to fund my coffee drinking habit if you use these links to make a purchase. You will not be charged extra. So it's a win for everyone! Please note that I won't link any products I don't believe in or don't resonate with my blog site. Thank you!

Are your English writing skills also holding you back from starting a blog in English?
Or do you already have a blog, but are you still feeling insecure when you are writing and publishing blogs in English?
Well, then this article is for you! Because there are plenty of ways to improve your English writing skills today!
In this post, I have listed some great tools and tips for you that have been very useful to me. They will help you to improve your English writing skills and get rid of your writing insecurities. I hope this article will give you the courage and confidence to be a part of this beautiful blogdom as well! 
Also read: 25x best books to read for influencers
Are my English writing skills sufficient enough to blog in English, even though I'm a non-native speaker?
And if you're wondering: are my English writing skills good enough to blog in English, my answer will always be: Yes! Because by doing it, you can better and perfect your English writing skills over time.
Besides, blog posts written by native speakers can be hard to read for a non-native English speaker. Even when their English is excellent, it's not the language they were raised in.
Good news: I found popular non-native English speaker's blogs, and their writing skills aren't perfect
This means there is a market out there for your blog! There are so many non-native English speakers out there who may find your blog much easier to understand. Because you don't use all buzzwords and urban language.
But apart from all this: if you wish to express yourself in English, do it. No law forbids it, we don't have to be perfect, and your blog is your space to express yourself as you wish. And visitors who don't like it are free to never return to your blog. So, yeah, DO IT!
8 ways to improve your English writing skills as a non-native English speaker
Below I listed my most helpful tools and tips for you to help you feel more secure about your English writing skills. First, you'll find 5 amazing tools that have been of great help to me to perfect my English. These are tools that help you to translate your content, to enhance vocabulary, and to do an online grammar check. I love working with each of these tools and I use them almost every day!
And to help you out, even more, you'll find my 3 personal best tips to perfect your English after that. So, check it out, and good luck with your multilingual blog!
Also discover: 9x best laptops for people who work from home
Tip #1: Grammarly
Grammarly checks for spelling and grammar mistakes, style, tone, and plagiarism, and for me, this is the best Grammar checker on the market.
It's a small investment, but this software is fantastic! It corrects most of my mistakes and helps me to feel a lot more confident when I publish a new post.
I want to be able to use the best grammar checker on the planet to its full potential, that's why I use the premium plan. And let me tell you something; it's worth every penny.
Your blogs will be online forever. So, you want them to be worth reading, right? Grammarly is a great tool to help you create content that's really worth it and that will attract many readers!
The Premium plans start at $11.66 per month if you a year in advance; the monthly plan costs $29.95 a month!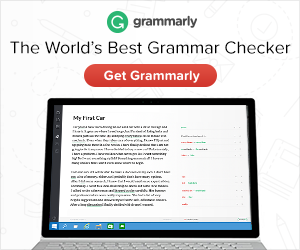 Tip #2: DeepL Pro Translator
The DeepL Pro translator is brilliant! It translates up to 5,000 words at once (for free), after which you can go over all the words and sentences one by one. It suggests multiple alternatives for every word when you place the cursor in front of a word. DeepL translations are far from perfect at first, and you need to work together with the software to create the perfect translation. You have to puzzle a bit with the proposed alternatives.
The best thing about the DeepL Pro Translator? It proposes translations and suggestions you wouldn't have thought of yourself! Genius!
You can try this tool for free, and when you reach the limit of the free plan, plans start at $6,99!
Also read: 10 online business ideas for new entrepreneurs!
Tip #3: Hemingway App
The Hemingway text editor analyzes your text and suggests where to improve it. It shows you the phrases that could be shorter, phrases that are hard to read, and words that you use too often.
This app is very helpful when it comes to your writing style. I use it last for the finishing touch.
It's a free desktop app by the way! Just paste your text into the app, and the Hemingway text editor will highlight the text you should improve.
Tip #4: LingqApp
The Lingq app is an excellent method to enhance your vocabulary and to improve your English writing skills! In the beginning, I used this app to learn new languages. But recently, I discovered the Lingq app is a great help when it comes to improving my English too.
This is how the Lingq app works: You open a lesson, or you can upload an e-book, article, or blog and you start to read the text. Every word that you already know, you mark as "Learned", every word that's unknown to you, you mark as "To learn".
You can train the words you marked as "To learn" later until you memorized them. The Lingq app keeps track of the number of words you already know in that particular language! (You need to know 10,000 words to be fluent in a language).
This app is truly brilliant and it's a completely different way of learning languages than we're used to. You can upload your favorite book and learn and read at the same time!
The Lingq app costs $ 11.99 per month if you pay monthly, for the cheapest plan. Or you can upgrade to a premium plan, which includes tutor guidance!
Tip #5: HelloTalk App
The HelloTalk app also has a language learning method that completely differs from what we're used to.
This is how it works: You tell the application the languages you're fluent in, and the language you want to learn. Then the application shows you people who want to learn the language you're already fluent in, who are themselves fluent in the language you want to learn!
You can then start a chat conversation with them to both practice your language skills. You can translate texts within the app, no need to go to Google translate, and you can correct each other too!
You can find the app in your app store! Plus, it's free!
Tip #6: Write your posts in your native language first
It can be very helpful to write your posts in your native language first. Even if you don't plan to publish them in your language. Yes, it takes a lot of time, but you can express yourself much better and easier when you write in your first language.
This way, you can share all the things you want to share. When I write directly in English, I tend to skip difficult words and expressions. And this goes at the expense of the overall message.
In Dutch, I can express myself without any restraints. And when I know what I want to say and how I want to say it, I just need to translate it. And to me, translating is much easier than finding the right words in English first.
Plus: When you have your post ready in your native language anyway, you might as well post it in both languages! That's our strength!
Tip #7: Read a lot!
Another thing that helped me a lot to improve my English writing skills is reading in English. Read as much as you can in English; the news, a magazine, other blogs within your niche… Frequent reading will help you to get used to the phrasing and words. And in time, it will get easier for you to apply what you've learned when you're writing new content for your blog.
Tip #8: Take your time
Take all the time you need to write your blogs, especially in the beginning. Choose quality over quantity. It also helps to prevent visitors from losing visitors due to poor language skills.
By the way, your readers won't leave your website because of some small mistakes. Provided that the text is readable and informative, of course. They will forgive you for not being perfect. 😉
In the beginning, it's fine not to publish new posts on a daily, or even weekly, basis. To write in a foreign language is a big deal and I recommend you to spend enough time on it. Eventually, you will be able to write much faster and feel more confident about your writing skills!
Also read: 7 Things I wish I knew before I started blogging
Conclusion
As you can see, there are plenty of ways to help you improve your English writing skills. We, as non-native English speakers, can write and blog in English if we want to. Even if your English is not perfect!
With these tips and tools, you'll learn as you go, and writing in English will become easier and easier for you!
Thank you so much for reading this post! I hope I inspired you to overcome your fears to launch or continue your blog in English, and to create your own multilingual website, too. I'd love to see the links to your English blogs in the comments below!
XOXO
Angie
Also interesting to read: 10 Reasons why you should start a blog and 6 reasons why you shouldn't